Side by Side video comparison of tests between SportStar and other leading brands
These unretouched videos show a chinstrap's ability to disperse and absorb energy on impact.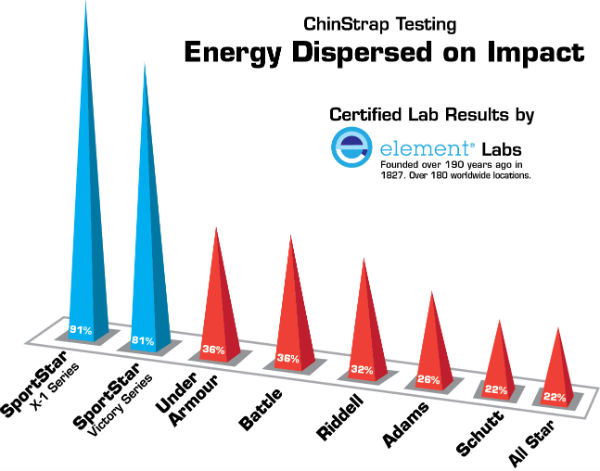 In these side by side comparison videos, you can see how a SportStar ChinStrap does in a drop test, side by side with other brands.
Pick a SportStar ChinStrap, Pick a competing model, then hit play to see our quality and reliability for yourself.
Test Results and Methodology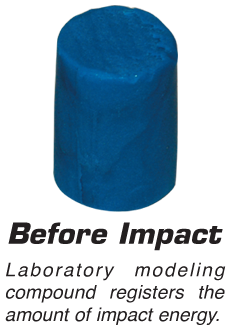 "This impact test generates approximately the force of a 225lb player running at 10 yards per second, striking an opponent and driving him back about 5 yards."
Terry Wilt, Product Testing Department Manager, Element Laboratories
In the laboratory, a soft modeling compound was placed inside each chinstrap right where your chin would be. The modeling compound was precisely fitted and measured to each chinstrap before and after impact. All chinstraps were violently impacted with the same force. The displacement indicates the amount of energy impact transferred.

The photo on the left shows the modeling compound before impact. The more the modeling compound changes shape, the more impact energy transferred. Less change means better protection. The unaltered photos below show the effect the lab test had on both the modeling compound and on the chinstrap after impact test.
After impact photos & results

SportStar X-1 Series (Gx-4)
Impact Energy Dispersed 91%

SportStar Victory Reg. (T-Rex Gel)
Impact Energy Dispersed 81%

Adams Pro 100
Impact Energy Dispersed 26%
SportStar Gx-4 performed 822% better.

Riddell Medium
Impact Energy Dispersed 32%
SportStar Gx-4 performed 755% better.
Results of other brands after laboratory tests

All Star
22% Impact Energy Dispersed

Schutt Gel
22% Impact Energy Dispersed

Shock Doctor
23% Impact Energy Dispersed

UA Defender
36% Impact Energy Dispersed

Independent 3rd Party Testing

SportStar utilizes an independent 3rd party laboratory as well as in-house product testing at our headquarters and also at our factories. Our 3rd party tester is Element Laboratories, a nationally accredited company with over 200 worldwide locations, in business since 1827. On the left, you can see some of the many tests which they conduct to ensure SportStar products meet the highest standards of safety and reliability.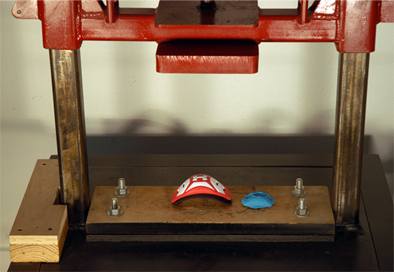 left; Chinstrap in a drop test
machine, with modeling compound
next to it.
In House and Factory Testing

SportStar also performs in-house drop and pull testing, and requires our factories to perform drop testing on random samples pulled from the assembly line. In this way we can identify problems before they start and ensure consistent quality products.